First day in New York…
Oh my God, after 13.5hrs, we arrived in New York City. Did I mention that there is a border security along the way, where they need to check your passport and your luggages.

I paid $6 for my I-9 card. This has a validity of 6 months. You will need to pay for it again if it expires. After some questions, I'm good to go 😊
Anyway, as I was saying, I made it 😊
First, is to buy a 7 day metrocard pass and find my hostel.
Reference: http://web.mta.info/metrocard/mcgtreng.htm
7 day Metrocard pass cost $31. There's also a re-loadable card, but I think it will be more cheaper if I buy 7 day metropass, as I always get lost, LOL. The ride cost $2.75, so for $31, I can only have 11 rides, so that won't work in my case 😊.
After finding my hostel, I left my backpack and just brought the necessary items with me, so I can start my tour in New York 😊, But I need some breakfast..hot chocolate and donuts will do 😊
I decided to go first in uptown Manhattan, as it is near in my hostel.
First stop, St. Patrick's Cathedral, and on the other side is Top of the Rock 😊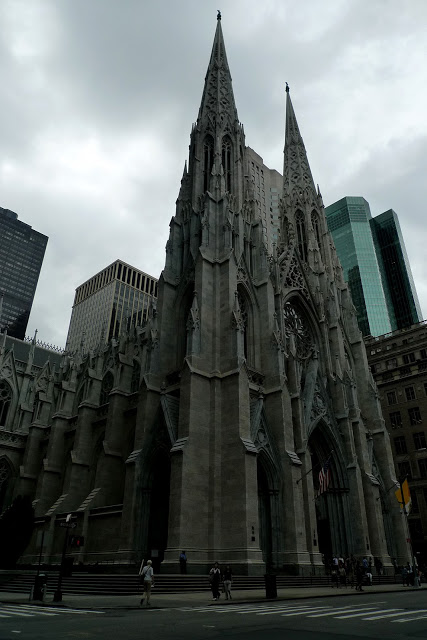 Buy souvenirs in St.Patrick's Cathedral, like coins.
But I didn't buy one, 😛.
After some pictures, we went to New York library and Bryant Park. There's not much to see, because the library was close.
I said we, because I met someone in Megabus (who planned to go to NY too), and want to join on my exhausting itinerary 😂.
Next, we went to Grand Central Station, also a walking distance from New York library.
Lots of people 😄
Then, we go all the way to United Nation headquarters. Again, walking distance from Grand Central. For me, there's not much to see in here, unless you want to visit it, that's fine.
We were exhausted, and I need to eat, as in now! 😅
I wanted to try Shake Shack 😊 I didn't know that were already in Madison Park, when we finally found the Shake Shack.
Oh my God…I'm so HANGRY 😁
There's a long queue, and the park is full, people are just buying burgers on this place.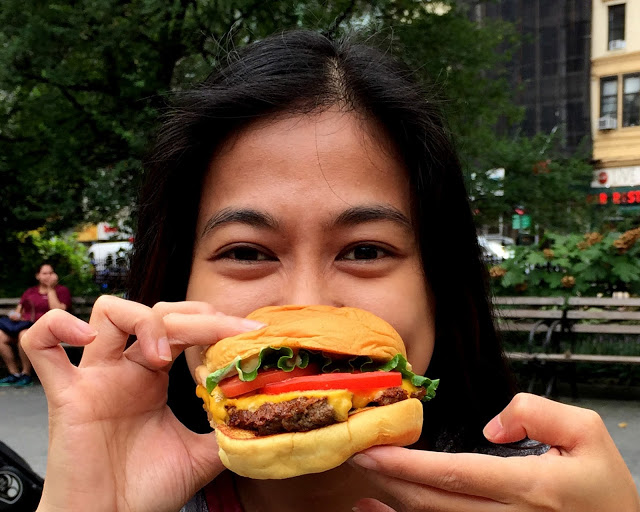 While eating, I just noticed that the Flat Iron is just around the corner. 😄
So, we we're full, we need to cut some fats, LOL
And the never-ending walk start again.
We went downtown Manhattan, we try to go to Charging Bull, but no luck, there's a lot of people around the bull, and they don't want to leave the Bull 😅.
Next, Ground Zero, we are all familiar with the 9/11 event. This is a tribute of remembrance and honor to the nearly 3,000 people killed in the terror attacks of September 11, 2001.
Trinity Church is just around the corner 😊
I'm so tired of walking. We went to Times Square, but we didn't go that far, LOL. And its time to rest, 'cause there will be a lot of walking the next day 😊