South Korea 4 Days Budget Itinerary.
Departure / Arrival to Incheon
1:00 am is our flight, so we left 10:00 pm to NAIA terminal 3.
When we got there, we need to pay for travel tax and terminal fee, and then immigration.
We want to check in early this time to avoid some hassle later. We filled out the departure card and went to the queue to immigration. When it's my turn, I gave my passport and the departure card…
then the officer asked for my company id, which I didn't bring. So the officer interrogated me, compared to my brother and sister. He suspects that I might look for a job, I was like, eh, OK..So I explain it to him, that I will not and we'll just tour for 4 days and showed our return ticket. Luckily, he let me go. Well, lesson learned, to bring my company id next time.
Yay! Incheon airport…
When we arrived at Incheon airport, we went to immigration first. It was really quick, they just scanned the passport and that's it. After that, we need to ride the airport train, to get our check in bag … We also bought our T-money, for our transportation, and loaded ₩15,000 each.
after that, we need to go out and find the bus stop for bus #6015 to Myeongdong … and we're out, and cold 😂
after 15 mins, the bus came in, we were in a hurry (because I'm freezing), haha.
There's a bus heater, which is so nice. Myeongdong is a little bit far from Incheon aiport.
And this is the last stop. After almost 2 hours, we alight at Sejong Hotel. And this is when I realized that I don't have any sense of direction.
We had our map to Namsan guesthouse 3, but why I can't see where it is.
So I asked a Ahjumma(korean word for grandma), but she can't understand english. So I just point the picture in our map. She said turn left, and straight ahead. But still, we can't see the guesthouse. So we went back from the start. We asked again a mother, and told us to go to Pacific star, then turn right and go straight. I got excited when I saw the Pacific Star, and forgot the direction and went to left instead of right. So now, you get the problem 😂
At this point, my sister and brother is kinda irritated with me 😂
I asked and asked, until a Ahjussi(korean word for grandpa), helped me and said to follow him. And here it is Namsan guesthouse. But wait, when I asked the reception, they told me, that they moved to other location. So that is Namsan guesthouse 2, and not 3. So I need to asked again.
I asked another Ahjumma, and told me to go down or rather follow her. So at last, I found the Namsan guesthouse 3. Did I mention that they walk so fast? that I need to stop and catch my breath. HAHA…
So now, my problem is how to get back to my brother and sister, who are waiting for me at the Pacific star. Yeah, I asked again, this time to a guy, and asked where is Myeongdong station. When I finally saw them, I just told them that I got lost looking for the guesthouse😂.
I'm really tired and we haven't started our tour yet. Good thing the hostel have free bread and noodles, coffee, and water.
So we just ate our brunch, rest for a bit, before going out.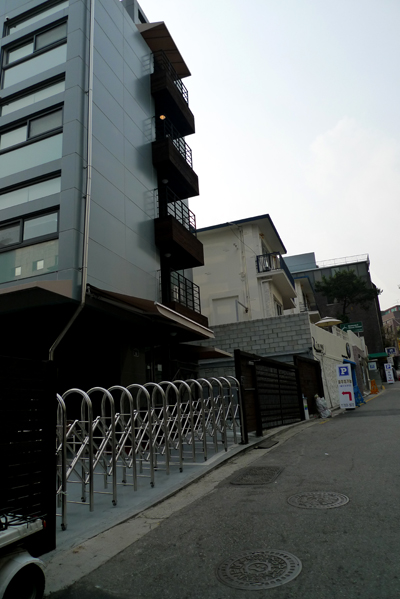 We went to Trick Eye Museum located at Hongdae.
Their subway is kinda confusing. Because there are so much lines (Sorry first to see this). So of course, we went to police station and asked hot to go there. The chief said, go to dongdaemun history and culture park (line 2) where we can find hongik university station.
When we arrived in Hongik university, I thought it was easy to see the trick eye museum, but I was wrong .. So yeah, apparently we got lost and asked again to people/food stall.
The counter at the 7-eleven store was really nice, she even draw a map for us, so we followed the sketch. But to no avail, we can't still the Trick eye museum. So we asked again for the N time. And the guy told us, that we need to go down (a small isle in the street), where we will see a small building. And Finally…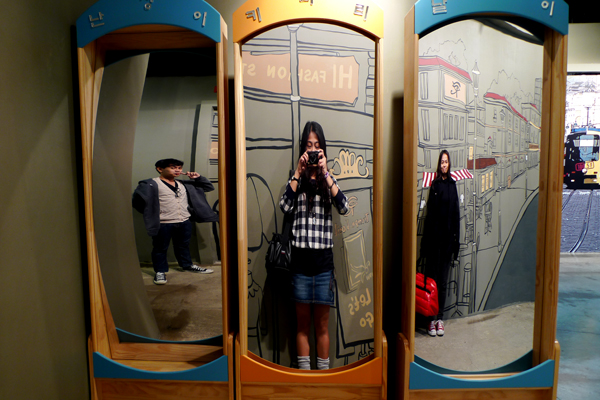 After the trick eye museum, it's a little bit late, so we went back to Myeongdong to have dinner and planned to go to N Seoul tower, which is really close to our hostel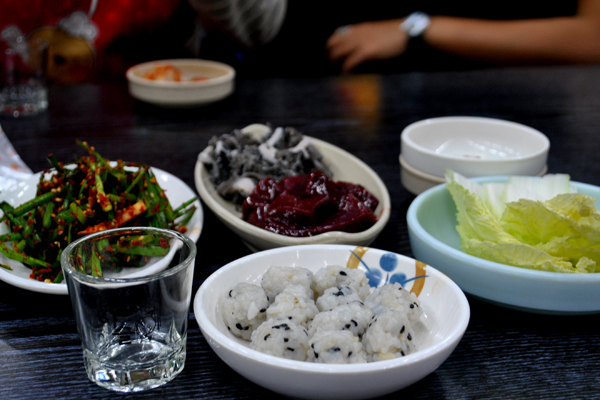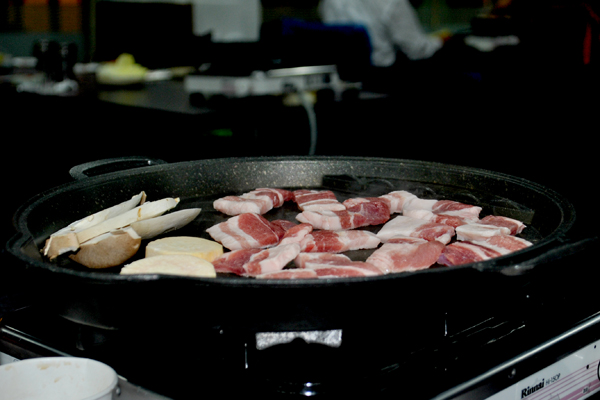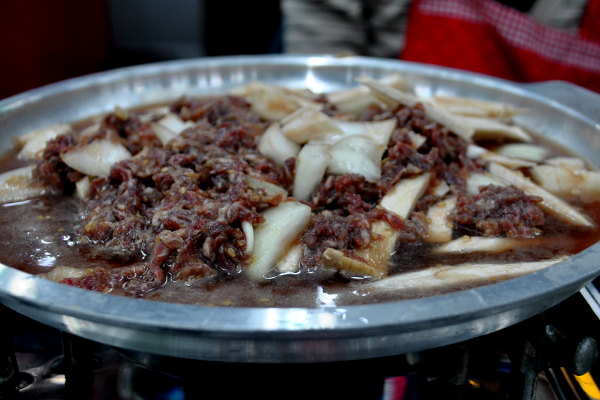 We tried the samyeopsal (grilled pork wrapped in cabbage, with kimchi) and bulgogi, with fried rice … they have many side dishes, as in, but we just ate the kimchi. The rice was kinda disappointing because they were small rolled rice, haha. So we did not really enjoy that much, but it was good but expensive.
N Seoul Tower
Time for us walk after eating dinner and drink more water. It might help not to feel so cold?
It was really chilly especially at night. We didn't know that there's an event for lovers, called the Pepero day. I think, it's like valentines day, 'cause of sweets and lovers around us 😃.
We bought some chocolates too, for energy walking uphill, to Namsan Tower. Well, namsan means mountain.
It will be a long walk going to Namsan tower, so we opt to buy round trip ticket for cable cars. It will save time as well, plus you can see the city view.
At the top, we bought a ticket for observatory + teddy bear museum package.
But before that, we went to the Locks of Love.
Teddy Bear Museum
After the tour, we decided to head back, 'cause it's already quarter to 10:00 pm.
I wish, someone can roll me down to the hostel. LOL.
Anyways, we're back to our beds, and time to rest, because tomorrow? More walk will happen 😭