And the day has come.
8 hours in KLM flight, wasn't able to sleep, just ate and read some eBooks, watched some movies. And here I am..Amsterdam..the start of my Euro trip 😊
First thing first, after exiting the immigration..I need to buy a 2 day Amsterdam Travel ticket for €20, this includes unlimited ride on all transportation even from and to Schiphol airport, for 2 days. (Link: Amsterdam transportation pass)
Ok, so I found the train going to Amsterdam Central Station. The ride took more or less 1hr.
From Amsterdam Central, I need to ride a #1 or #5 tram. It took 20 minutes from Amsterdam Central to Leidseplein stop (I don't even know how to pronounce it, LOL). It took longer, because there are road constructions along the way.
And now time to find my hostel… 😊
OK, so I followed the instructions that the hostel gave me, and after 10 minutes walk..tada! I found the StayOkay Hostel😃
And because I'm an early check in, I just rented a locker for a few hours, €0.20 per hour.
And time to start my tour 😊, but breakfast first.
So I just ate my breakfast at the hostel..eat all you can! 😊
My tummy is full…and its time to start my tour…but wait, my offline GPS is not working! what???!!! I can't do this without GPS, and my phone service didn't worked..OMG..OK, calm down, I'll just ask someone, right?
OK, so because it's too early to for canal cruise, for now I'll walk around Leidseplein, take a picture and done.
Oh my, it is too cold! 😩
so its 11:00 am, time for canal cruise 😁
the good thing, I can rest for 1hr, but because I'm so sleepy, some info in canal cruise, makes me sleepy 😴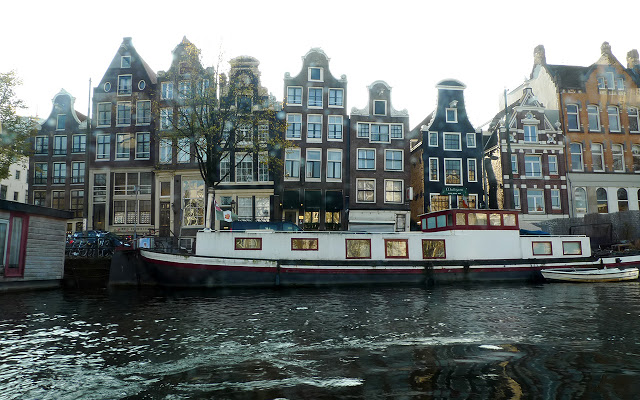 I wasn't able to go out, during the canal cruise, to take a picture, because… damn, its really cold!!! 😟 ..so I just took a pic of each inside the cabin.
After 1 hour of canal cruising, I asked guide, if he know where I can find the IAMsterdam letters, he told me it's in Rijkmuseum, but I've read in IAMsterdam site, that the letter had been moved. So I keep telling the guide, that I think they were moved, because I also saw the letters during the tour..but the guide just said to me, "oh, hmm..I didn't know if they were moved"..hmm
So I just went to the rijkmuseum, which he told me, that its just a 5-8min walk..In my mind, really?!!!, all this time, its just an Eight minute walk from my hostel?!! haha…talk about not understanding the map 😛 (I'm not really good at it)
And tada!!!, and guess what? the guide was right all along, haha, the rijkmuseum is just 8mins walk from the canal cruise, the letters are still there, and Van Gogh museum is also within the vicinity 😊
I was so glad (and relieved, haha), I thought I will not be able to see the letters, LOL
There are so many tourist, making their own pose, even climbing on the letters 😊
So I decided to just visit again early in the morning the next day.
I just walked around a bit and observed the place and the kids play around, I think its their Physical Education activity thing.
After some time, I decided to get back to the hostel, to checked in, and another thing surprised me, that my hostel is just besides the Vondelpark.. I mean what's wrong with me 😅
Anyway, after paying my balance on the locker which is €0.80. I checked in and fix my bed, so I can already rest later.
Then went back to visit the Anne Frank house and the Dam.
What I like the most in Amsterdam, people are so kind 😊 so every time I don't know where am I, or where I'm going, I asked, even if they don't know, they will still accommodate you 😀
Because of jetlag, I already forgot to eat, haha..so I just bought a fries, cause I don't even know, if I can eat a full meal, haha..and I saw a cannabis brownie, I wanted to try, but I'm worried I might forgot to wake up early (exage! 😛)
I'm really tired, and it's getting really chilly outside..I have a low tolerance to cold weather, so I need to go back to hostel and rest…besides I need to get up at 7:00 am 😄
Here's my review on StayOkay Vondelpark hostel 😊
I just took a shower, and went to bed early, as in 8:00 pm 😃
I woke up, before my alarm goes off…and its even colder and it still dark, even though its quarter to 7:00 am…but I need to go to the letters for the picture 😅
After some time, I went back to hostel to have breakfast.
And its time for me to leave.
I missed the bus going direct to airport, so I rode the tram and then was confuse on how to go to airport from Amsterdam Central, its a bit different if you came from airport. This time I need to got to platform 1, and alight as stop 1, then walk for about 10mins and ride a bus to airport…even if its just 10mins, with a heavy backpack, it feels like 30mins 😅
And here we go…to my next stop..Athens 😃