Sensoji Temple
I woke up, 7:00 am in the morning and decided to take a shower later. We wanted to see the temple with few people. And it's close to the hostel.
I wanted to try the fortune (I don't know what's it called)
OK, we drop our ¥100 then, make a wish while shaking the container, then, turn it upside down and wait for the stick to come out…look for the drawer with corresponding number of the stick, then pull it to get your fortune 😊
Aika (my roommate) knows how to read Japanese. So she's the one who read the number I got. 😊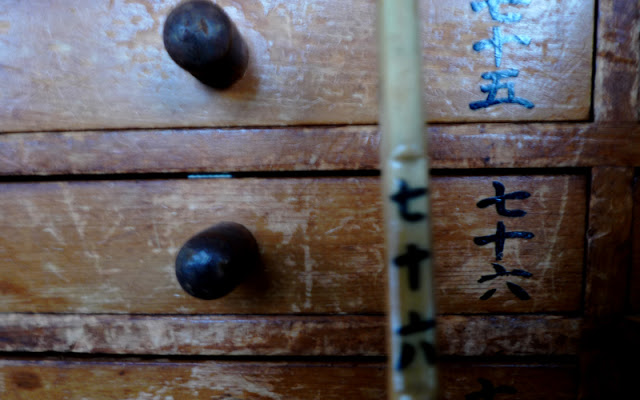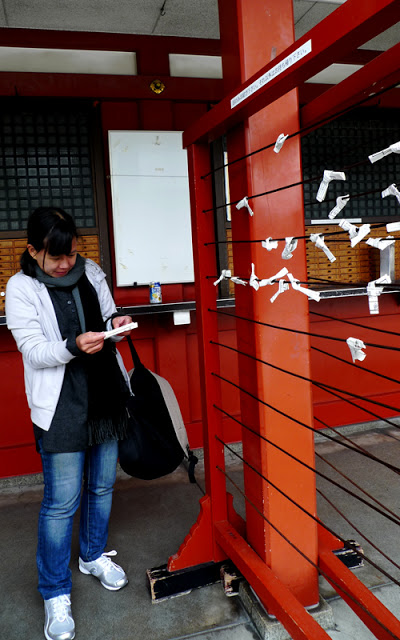 I got a Regular fortune (or a happy fortune), while Aika got a bad fortune 😨. We met someone, like a grandpa, who explains what to do on it. Since it's a bad fortune, Aika was told to tie the paper in the string, to kill the evil…something like that, as for me, I need to keep it in my wallet 😊
Aika tried again, and this time, she got a medium fortune, meaning 50/50. Oh well at least it's not bad again 😊
We also tried the incense smoke, to purify your body (according to grandpa). Then Aika pray at the temple too. It's crazy, because Aika's fortune said to stop travelling. But she's in a tour now. LOL
I went back to the hostel, 'cause I need to shower and eat breakfast, then check out too.
The hostel had a arroz caldo, made by their Filipina staff. It was so good! I ate a lot, and soup is good during cold weather.
After I checked out, I left my luggage and head to Odaiba.
Odaiba is in Yurikamome line.
Trains depart every few minutes, and a ride between Shimbashi and Daiba Station takes 15 minutes and costs ¥310.
If you ride the Yurikamome more than twice, a one day pass for ¥800 is likely to cost less than regular fares.
The Yurikamome crosses the Rainbow Bridge to get to Odaiba and offers spectacular views of the harbor and the Tokyo waterfront. Sit or stand at the very front of the train for the most impressive views.
There's a separate transportation ticket to Odaiba. From Yurikamome station…You can choose ¥800, a one day open ticket, or ¥370 for one way ticket.
I wanted to see the replica of liberty, which is located in Daiba station. Aquacity and the Fuji TV Building is within the area too.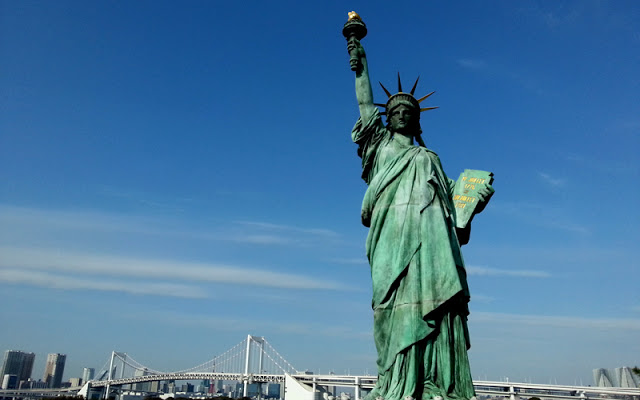 I bought some chocolates too at Daiso store in the mall.
Next…I went to Akihabara, to see the electronic shop district.
But I think from where I am, it's too far.
So I just went to maid cafe. I really want to take a picture of them. But it's prohibited.
But they have their own photo booth, so you can still have photo with them.
I was surprised, 'cause I'm the only girl inside. 😲
I wanted to leave but their pancakes looks really good.
And I'm surprised again, when the waitress (dressed in maid) knelt down to get my order. 😳
Ok, time for Ueno Park.
After Ueno Park…I decided to go back to the hostel.
It's like 8:00 pm already, but it's only 5:00 pm.
While I'm relaxing and browsing, suddenly, there's an earthquake. I think it lasted for 15 minutes.
It's already 9:00 pm and my bus departure time from Tokyo to Osaka is 11:00 pm.
So I left the hostel.
I really hate the stairs. Where's the lift when you need them 😅
Need to go where the Willer Bus will park (somewehre in Shinagawa station). So I waited for 40 minutes. (Funny thing: the closer warm place is restroom, so that's where I waited😂)
And it's time to board.