Rise and shine, time for Universal Orlando Resort.
We had our breakfast first at IHOP.
We wanted to eat big breakfast so we can save money for food. Since the food inside the parks are kinda expensive. We planned to have snacks, just in case.
We also brought our tumblers, since there are water stations inside the parks.
And of course, sunscreen cause it is really hot!
When we get there, we need to pay $20 for our parking. After a 10 mins walk from the parking,😄.. we arrived at the security check section and another 10 mins to the Universal Adventure entrance.
You will see the Universal Citywalk, before the Universal theme parks.
We opted to go first to Universal Adventure Island, and surprise, surprise….my boyfriend bought us express pass. For me, it's really OK if we don't have the pass and just ride whatever we can. But well, express pass really helped, since the lines were really, really long. We were there 30 mins after it opens. So it really saved time.
We tried first The Incredible Hulk, we left our valuables in the lockers in front of it. You will need your ticket/barcode to unlock/lock the locker.
oops, kinda wrong choice in my part. The ride was really extreme, that it made me sick. That I think I almost lost my neck for a minute,😁.
After the ride, I really want to vomit, but nope, I just feel sick, and need some time.
After that ride, we tried the The Amazing Adventures of Spider-Man, which is a 3D ride. And then the Skull Island: Reign of Kong, which is also a 3D ride. And next is the Jurassic Park River Adventure.
We did a photo with the Raptors, which kinda move 😁
Some of the rides, are for kids. We didn't try the Dudley Do-Right Ripsaw Falls, since we didn't bring any extra shirt/shorts.
While walking, we didn't even know that were already at the Harry Potter and the Forbidden Journey.
Wow, they did a great job with Hogsmeade. It was really great, and I can stop taking picture of each angle, haha
I didn't try the butterbeer… I know, I know, it's a must try..I'm just not craving for it,😁
So we saw the Dragon Challenge Ride. And of course I want to try it, but I'm kinda skeptical, since there are lockers, so this is an extreme ride, same as the hulk.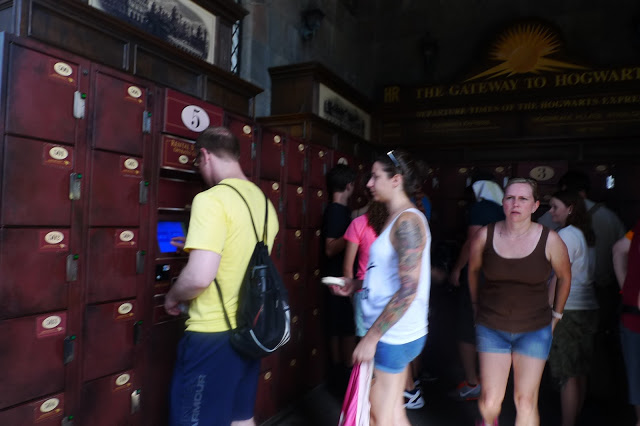 And I was right, it made me feel sick again, wah…I'm done with the rollercoasters, for real.
And again, I need some time to recover, so we just took some more photos.
After Hogsmeade, time to ride the Hogwarts Express, which will take us from Hogsmeade station to King's Cross station. The Universal Studios Florida park.
The Hogwarts Express will have some scenes in the windows and even at the door of each car. There will be different scenes from Hogsmeade Station, and from King's Cross Station. Like silhouette of the main characters and Death Eaters. This will last like 5 minutes (most likely)
Once we arrived at the King's Cross Station.
Just walk around first and so the shark thing 😁
We went to Transformers, it is also a 3D ride.
Then we walk a little bit, and found Despicable Me Minion Mayhem, where the line was really long, but thanks to our express pass, but still, it was 15 minutes wait. Same with Shrek 4D.
After that, we were able to take a photo with Shrek and Donkey, and the grumpy Minion,😅.
We rest and sit for a bit, cause it was really hot, and were having some headaches.
Once we regain some energies,😂…we started walking and saw Dora the Explorer, so again, we took a photo with her.
We walk more, and try to find some characters too, like Woody Wood Pecker and Sponge Bob. We didn't find Woody Wood Pecker, but we were surprised when we saw bunch of Minions…woohoo, so we lined up for another pic.
And it was almost time too for Sponge Bob and Patrick.
We just roamed around for a bit, and try to The Wizarding World of Harry Potter – Diagon Alley. After some time, we found it, and funny is it's just besides the King's Cross Station.
We saw the Knight Bus, and entered the Diagon Alley.
It was really amazing and there's a lot of kids have their wands and pointing to some stuff 😊
I wanted to record the Fire breathing dragon at the top of Gringotts Bank, so I waited and time when it happens, while we eat some ice cream in a cone, which is really, really rich, it was really yummy, and I forgot to take a photo of it. So the interval time is 10 minutes, and tada! Finally got you 😁
Leaky Cauldron is a nice place to eat or have some meals/snack.
After the magical Diagon Alley.
It's time to watch the Fear Factor Show. Which they had some auditions (before the show) from the audience if they wanted to participate.
After the show ends, it's almost time for the parade, and we need to find a good spot for it.
But we still have time and tried to go to Terminator 2-3D.
Once it's done, we saw Bart & Homer and took a photo too 😄
So the parade begun.
Were really out of energy and time to eat and rest.
We went back to Hogwarts Express train to Universal Island Adventure, since we park in that area.
More Magical videos…
We found a silver coin minion, and got one too.
Now time for dinner. We just ordered the Eat all you can appetizers in TGIF, and some juice.
And then time to rest.
We still have time before we leave Florida.
So we decided to play mini golf in the Hotel and also went to Universal City walk for the last time.
And time to go back to the hotel😁